I got an email a little while ago from Atlas Shrugged Movie. That's really the name in the
from
field. It is really from the movie's marketing department. I must have signed up for email alerts from them at some point. Whoops. Personally, I think this should have come from "John Galt." That would have been neat. "Hey, Mom, John Galt just sent me an email!" See? Marketing 101.
Anyway, misery loves company (so says that Goo Goo Dolls song), so I thought I'd share: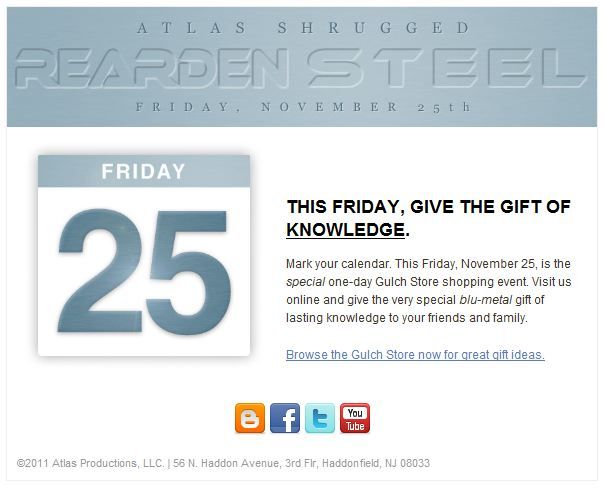 The copy in the email reads:
THIS FRIDAY, GIVE THE GIFT OF KNOWLEDGE.

Mark your calendar. This Friday, November 25, is the special one-day Gulch Store shopping event. Visit us online and give the very special blu-metal gift of lasting knowledge to your friends and family.

Browse the Gulch Store now for great gift ideas.
I don't really know what this means. It references a one-day event on Friday, but the online store is open
now
and will, free-market willing, be open Saturday and I see nothing about special
Black Friday
discounts. Marketing 204 (an elective class) I bet teaches: Be sure your message is clear. Whoops.
I guess, maybe, if you're going to buy an
Atlas Shrugged: Part I: The Undiscovered Country
DVD do it on Friday? It's now available in nine (NINE!) different editions. Oof. To be an
Atlas Shrugged: Part I
DVD completist: Sad face.
See you Friday, Shruggians!