Oh, chapter sixteen, how I miss you. You made so much sense. I thought, with you, I understood what was going on. But no. Now I am lost. Chapter seventeen came along and ruined everything with its lack of coherence.
Danny and Kearns are on a private jet, on their way to a meeting with some militiamen. Militiamen intent on committing "a grotesque act of domestic terrorism." Kearns is an undercover agent. Danny is his bait.
I guess this all ties back into those missing nukes. But I thought Darthur's PR firm had those. Is the militia a cover group for Darthur's firm? If so, why do is Danny needed "to lend a crowning bit of credibility to the proceedings"? Suppose the militiamen
really are
just a bunch of terrorist douchebags intent on setting off a bomb in some U.S. city? Then why is Kearns portrayed as such a douche when his efforts to stop them are pretty fucking noble?
Last chapter, it was pretty clear Kearns was an asshole for coercing Bailey into waiving his rights and turning snitch. In this chapter Kearns is little more than a spoiled doofus.
Stuart Kearns took a pack of Dunhills from one jacket pocket, his lighter from another, then reclined his seat a notch and lit up. He inhaled deeply, then blew a thin white ring of smoke and watched it drift up toward the rounded cabin ceiling.

"What are you doing?"

Danny Bailey had awakened from his nap and was staring at the lit cigarette across the narrow aisle as though he were watching a bank robbery in progress.

"You can still smoke on a charter. On this one, anyway." Kearns extended the pack to him, shook a filter tip halfway out. "Come on, you know you want to."
Come on, you know you want to?
Yeah, that's how adults talk to one another. I love how Kearns smokes Dunhills. The only people I ever knew who smoked Dunhills were me and my homo pals (and Liss). I don't think it's an accident that Kearns' brand of choice is an expensive, fashionable brand, rather than Camels or Lucky Strikes. Yeah, he smokes faggy cigarettes and blows smoke rings: what a stooge!
Danny is, of course, all business here. He doesn't cotton to Kearns breaking FAA regulations. Which is odd, for a rabble rouser with such a dislike of The Man and his Rules.
Backstory:
Several years ago, Kearns had the FBI set up a website,
www.stuartkearns.com
, and began posing as a disgruntled whistleblowing ex-agent. He'd been, according to his cover story, "run out of his job when he'd tried to blow the whistle on some dangerous truths." With his knowledge of Dangerous Truths and access to the FBI's database of Very Bad Things, Kearns became a "household name" in militiamen circles.
Kearns is described here as "ex-fed-turned-Patriot." Interesting, no, the notion that one can't work as an employee of the government, as a federal agent,
and
be a patriot? Ah, well, maybe that's how the militias see it, and not Beck. Except every character in the book has spent the last 125 pages lambasting every aspect of government.
Anyway...
A new discussion group had formed in a private chat room on the site, under the heading of "Direct Action." The members began to kick around the logistics of the Oklahoma City bombing, Tim McVeigh's attack on the Murrah Federal Building in 1995: what had gone right, what had gone wrong, and the various conspiracy theories still swirling around the event and its aftermath. With some encouragement from the forum leader the discussion evolved—some half-baked plans that would've gotten the job done better, other vulnerable targets, men, methods, and materials. Many dropped out of the conversation as things got more serious, but eight stayed on.

This remaining group progressed to tentative voice chats and then to encrypted e-mail exchanges, all the while inching their way from what had started as a mere discussion toward a solid plot that could actually be executed. Three more anonymous participants eventually got cold feet and dropped out, leaving five people ready, willing, and able to commit a grotesque act of domestic terrorism.
So Kearns lures five people into his fictitious plot to set off a nuke. And now needs Danny to help him close the deal, as it were.
Danny Bailey would be brought along to the first in-person meet-up, to lend a crowning bit of credibility to the proceedings; he was currently the closest thing the Patriot underground had to a national spokesperson. In essence, Bailey would play the Oprah to Kearns's Dr. Phil.
I don't know about you, but these militiamen sound like dopes. They're falling for
this?
Okay then. Thank maude they're stupid, is all I can say.
Danny isn't too keen on playing along.
"These aren't my people," Bailey said. "You've gotta be kidding me, man, I've never told anybody to do any violence—"

"I've watched your videos, son, and you don't exactly tell them not to, either."

"Aw, come on." Bailey sat back in his seat, shaking his head. "I've got to go over the top just to get people up off the couch. Have any of you guys ever actually read the First Amendment?"
It's nice that there is some rationalization thrown in along the way. All's fair in Patriotism™ and infotainment where the First Amendment is concerned. Good to know, Beck.
Now, the author uses this moment to indulge in some faction. Blending fact, with fiction. Or,
pulling-a-Law-and-Order
, as we like to call it, ripping off a real news story and passing it off as his own.
Kearns asks if Bailey's ever done any acting. Bailey whips out a photo of himself dressed as Col. Sanders shaking hands with Ali Treki, president of the UN General Assembly.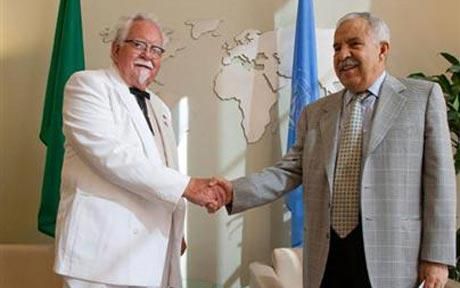 "That's me." Bailey pointed to the man standing next to him in the photo. "And that's Mr. Ali Treki, the president of the UN General Assembly, receiving an official state visit from the founder of Kentucky Fried Chicken, who'd been dead for almost thirty years at the time. It was a publicity stunt for my DVD on UN corruption, United AbomiNations. It's sold out, but I'll see if I can get you a copy."

"I'll add it to my Netflix queue."
Except that in real life, this was a
publicity stunt
pulled by KFC, to promote their new grilled chicken sandwich. I don't know why the author chose to glom onto this factoid and weave it into the fine fabric that is this story. I guess maybe he just liked it.
I'm thinking we'll find out that Hollis sang Chocolate Rain too. Or Noah was the techno Viking. Or Darthur is goatse. Us fans of faction can only hope.
All that would certainly be less confusing than what's actually going on.