I've never been much of a fan of Bret Easton Ellis. Reading about self-absorbed rich people has rarely appealed to me (see
also
), but I have read a couple of his books. I don't recall much about either of them, other than one started (and ended) in mid-sentence as some sort of stylistic conceit.
All of which is neither here nor there, and is just a preface to the news that Ellis has a new book out.
Imperial Bedrooms
is described by Publishers Weekly as a "brutal sequel to
Less Than Zero
." Clay (AKA Andrew McCarthy) is "casting teenagers for his eighties period film" and "finds himself eyeing the sixteen-year-old actors dressed in the style of his youth."
Anyway
, "chains and mutilations", "creepy noirish bent", "mass graves", "tortured soul", "mysterious text messages", "betrayal and horror", blah blah blah. More transgressive, masturbatory bullshit from Ellis.
Ellis' publisher, Macmillan, has found the perfect way to promote the book. They've launched a site called
The Devil In You
which features a fun little "game," the sole purpose of which is to
abuse and degrade an actress
measure the player's morality.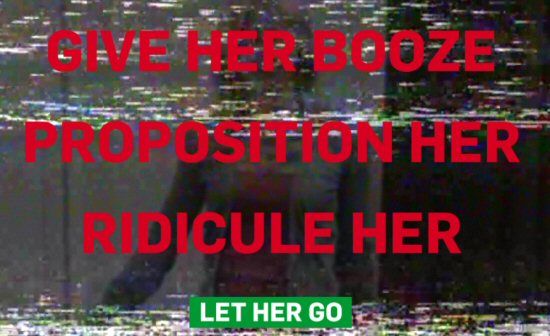 For example, the player can either "GIVE HER BOOZE" or "PROPOSITION HER" or "RIDICULE HER. Or "let her go." (See image above.) There is no other point to the game. Other than to promote the book through virulent misogyny.
Which may be appropriate for Ellis' book, but doesn't make it any less contemptible.
(
Via
.)
[
Cross-posted
.]