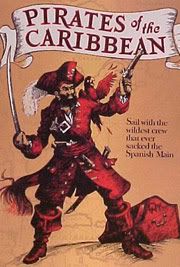 For a year, when I lived in Los Angeles, I had an annual pass to Disneyland. It was a pretty cool thing to have. I could go any day, any time to the Happiest Place On Earth™ completely free of charge. Sometimes I'd just go at lunch and ride Star Tours then go back to work. Or I'd stroll in on a Tuesday evening, buy an overpriced
churro
and take a spin on The Haunted Mansion. These odd hours and near-constant presence in the park afforded me some strange experiences.
Once, I was riding Pirates of the Caribbean, and a few boats back, there were a couple of rowdy "long hairs" (as my father would have called them). They were generally being obnoxious, splashing, cussing, and engaging in rowdy shenanigans. This behaviour culminated with one of them yelling "Sepultura" at the top of his lungs. A few moments later, the ride came to halt. I couldn't see their boat anymore, it was back around a bend. When the ride started up, and their boat came into view, they were gone.
Now, on occasion, I get the urge to yell "Sepultura." Pretty much at random.
[
Cross-posted
.]