Tonight's the night, Shakers. The long, hard-fought campaign comes to a close. No, I'm not talking about that business in Kentucky and Oregon; who knows what the hell will happen
there
. I'm talking about the showdown in Hollywood. Tonight is the final night of competition on
American Idol
's seventh season.
I know you've all been following my weekly
American Idol
posts closely and… what? I got busy, okay! I
meant
to write about it every week, but I was interrupted by painting and picking out duvets and shopping for matching lampshades. Next year, I promise.
Just so you don't feel cheated, here's my recap of the last ten weeks: Bye. Buh-Bye. Bye. Finally! Really? Buh-bye. Bye. Bye. Later. Goodbye.
So, who has survived Simon's witty bon mots and Paula's drunken ramblings? Who are our champions? Whose cuisine will reign supreme?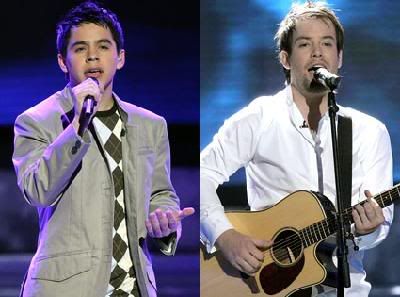 On one side we've David Archuleta, fresh-faced Mormon boy and Mitt Romney supporter. He's young, he's cute, and I am pretty sure he may be the Antichrist. And his opponent? David Cook, a hip twenty-something emo kid who somehow managed to sing an Our Lady Peace song on national TV and not get voted off: he may be made of Teflon.
Who will win the coveted spot as the seventh American Idol and the sweet record deal that comes along with the tiara? My money's on Archuleta. He's gonna pull in the vote from every teenaged girl and chickenhawk from here to Salt Lake City. He's cute. I'll give him that. He sucks, but he's cute. And that's about all that matters here.
I know lots of people like him and think he's the best thing since tube socks, but I am going to be honest: the kid gives me the creeps. His aww-schucks-oh-wow-golly-you-like-me-you-really-like-me routine comes across as little more than contrived, and when he wins I'm sure we'll see more of the same. And let me tell you, I ain't buying it.
Here's why: In 2004, he was on
Star Search
. He later went on to win
Star Search 2
(and the $100,000 grand prize). He's appeared on TV shows as diverse as
The Jenny Jones Show
and
The Early Show
and even managed to get back stage at
Idol
season one and sing for that season's finalists. He's traveled around the world singing. All of this to much praise. So don't go pretending you're surprised people like you, kiddo. You're not a shy little kid from Utah, you're an overachiever with a conniving stage father, and really, that's not very charming.
But what about his competitor, David Cook? He's certainly more likeable. He's certainly the better singer. His performances have been consistent throughout the season (unlike Archuleta who's been hit-or-miss). And at the very least, Cook has been trying to do something different, in his own emo-pop sort of way, and is one of the most interesting performers the show has had in a long while. And while his unconventional arrangements of oldies like "Billie Jean" and "Hello" might make for great television, I don't think that will carry him to the top spot.
Tune in tonight to see how it all plays out. Or not. There's a
Lost
rerun on ABC.