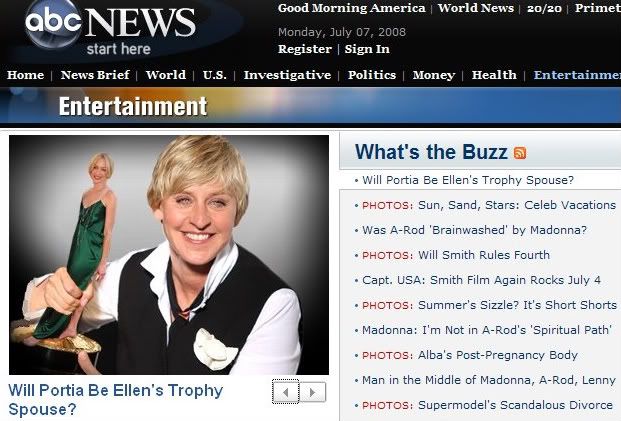 Oh, for fuck's sake, it is too early in the morning for
this shit
. I've got just two words for ABC News this post-holiday Monday: Go fuck yourselves. Do I really need to read shit like this as
a headline
from a major news organization: "Will Portia Be Ellen's Trophy Spouse?" It's too early in the morning for such sexist, misogynist, homophobic swill.
The article is, of course, a big pile of horseshit, and I don't know why it was written to begin with. But wevs. The author does note "Today, experts say, the phrase (trophy wife) is less pejorative" which is nice of her and all. Mind you, "less pejorative" is a relative and somewhat qualified phrase, and despite being an indeterminate amount of pejorative, it's still splashed all over the article, and ABC's website. So, basically, we're led to infer "it's not a very nice thing to say, but we're gonna say it anyway." (Nice graphic, by the way.) But hey, it's just one article. I'm sure it was a fluke.
Huh? What's that in the right hand column there? "Was A-Rod 'Brainwashed' by Madonna?" Another
fab fuckin' headline
, I see. Great, glad to hear you're not slinging the sexism just at us homos. Madonna, siren and temptress, lures poor, unassuming lad to his demise. At least that's what I am assuming the article is about. Truthfully I didn't even bother to read it. I had
pictures
to look at; note this headline: "PHOTOS: Alba's Post-Pregnancy Body."
Wow, a sexism trifecta right there on the front page of the entertainment section. I think that may entitle you to some sort of award.
(* I think, by the article's definition,
I was a trophy wife
.)